While this problem is mostly seen in computers running on the Windows 7 Operating System Windows 8 and 10 aren't at all immune to it. As you all know, there are many tutorials on the internet about this error, but most of them only take a while to get it back. Today I will show you how to fix it so we can follow along with dancylove.
1. Method 1: Check and clean the computer
There are a number of viruses and malware that can cause this problem so the first thing you need to do is clean up the system. Since these threats are most likely the cause of the problem, as soon as you remove them, the problem will be immediately fixed. Here are the steps to follow:
Find a good antivirus to download and install. If you already have the right tool, check to make sure it's up to date.
Launch the anti-virus program and perform a full scan of the computer.
2. Method 2: Disable the service causing high CPU usage
There are certain services that can lead to Svchost.exe using a lot of CPU. What you need to do is find the services that are causing the problem and disable them. You can follow the below steps for Windows 10:
1. Hold down Ctrl+Alt+Del.
2. In the windows that open, select Task Manager.
3. Click the Details tab and scroll through the list of services and find the service that is taking up too much CPU.
4. Right click on it and select Go to services.
5. The Services tab will open. Locate the service that uses the svchost.exe process, right-click it and select Restart.
6. If after doing that the service is still consuming too much CPU, you can right click on it again and select stop.
For Windows 7, the process is a little different:
1. Start Task Manager.
2. Open the Process tab and find the exe process that is taking up too many resources.
3. Right click on it and select Go to services.
4. Right click on the process and select Restart. If this doesn't help, you should disable the service.
3.Clear the Windows Event Viewer log
Another possible cause of the problem is that the Windows Event Viewer log file is too large. If all of the above methods fail, you may want to delete this file by following the steps below:
1. Open Run by pressing Win+R.
2. Type eventvwr and press Enter.
3. On the first panel, double-click Windows Logs to open it.
4. On the same panel, right-click Application > Clear log.
5. Also clear the logs for Security, Setup and System.
6. Once you complete this, simply restart the computer.
4. (Windows 10 only)
You can split svchost processes by changing the SvcHostSplitThresholdInKB value.
Go to Start>Windows System>Run or use Win+R combination;
Enter regedit into the Run window;
Go to HKEY_LOCAL_MACHINE\SYSTEM\CurrentControlSet\Control;
Find the SvcHostSplitThresholdInKB file and open it to modify.
Enter one of the values listed below, depending on your RAM space. Essentially, these values ​​RAM gigabytes converted to kilobytes, e.g. 12 GB = 12 x 1024 kb = 12582912.
| | |
| --- | --- |
| RAM | KB value |
| Default | 380000 |
| 4 GB | 4194304 |
| 8 GB | 8388608 |
| 16 GB | 16777216 |
| 32 GB | 33554432 |
| 64 GB | 67108864 |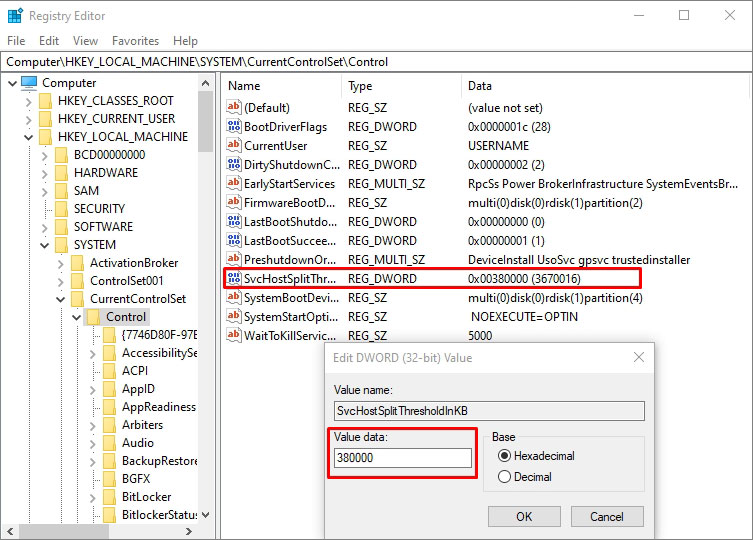 Afterwards, clear system logs to avoid any problems. Use Event Viewer (Win+R, enter eventvwr and press Enter). We recommend removing logs in the Windows logs tab and  rebooting afterwards.