You can enjoy changing mouse pointer shape as you like with many beautiful designs. In this article I will guide you to change the mouse pointer shape on Win XP / 7/8 / 8.1/ 10
Change the mouse pointer shape with beautiful images such as cute animals, cartoon characters, comic characters … will make your computer stand out more.
1. How to change the computer mouse pointer shape – win 7/8 / 8.1/:
B1: download the mouse pointer you like here: http://www.totallyfreecursors.com/ or you can search the keyword Free Cursors.
B2: Open the Control Panel.
B3: Select Hardware and sound, remember to watch in View by: Category mode.
B4: Select Mouse
B5: Mouse settings.
Mouse properties window appears-> click the pointers tab
Select the display type of the mouse pointer in the Customize section and click the Browse button … For example, in the image below, I will select Normal Select, when the mouse is in the state of doing nothing, it will display the image you are about to select (you can see the figure below). its default is next).
Step 6: Navigate to the file (format * .ani, * .cur) you just downloaded in step 1. Click to select and then click the Open button.
Step 7: You will be previewed the mouse pointer image as marked in the image below. Press Ok to save changes.
Now you have changed the mouse pointer shape and done!
To return to the original default mouse pointer shape, open the Mouse properties mouse settings and click User Default, then click OK to save the settings.
2. Change Mouse Pointer size and color in Windows 10:
Way 1: Change them in PC settings.
Step 1: Open PC settings.
Step 2: Choose Ease of Access to enter its settings.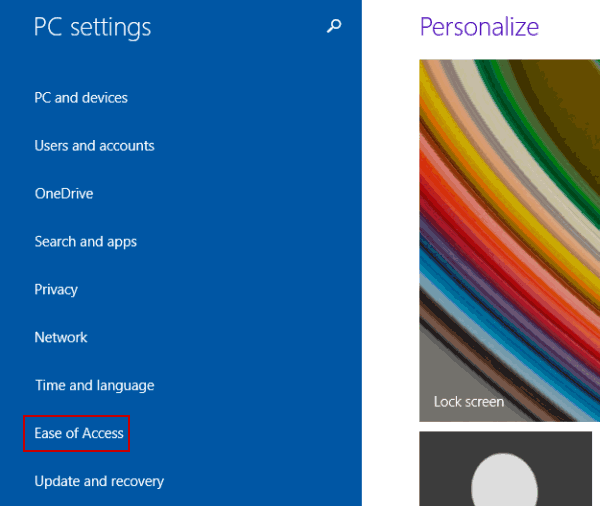 Step 3: Click Mouse, and choose new pointer size and color in the options.